I've been reading a number of good books for review lately (see list at the end of this post) that I can't write about here, but have also enjoyed a great deal of genre fiction recently so I thought I'd share a few titles with y'all.
Cross, Kady. The Girl in the Steel Corset (Harlequin Teen, 2011). I've been enjoying works under Cross' various pseudonyms (see also: Kate Cross, Kate Locke) but I think this series of YA adventures set in the same steampunk universe as her Kate Cross novels may be my favorite. Here we follow a merry band of teenage misfits (again, no identified queers, alas) with mutant powers as they wrestle with romance, politics, and the eternal adolescent questions of where they come from and where their place in the larger world might be.
Gleason, Colleen. The Clockwork Scarab (Chronicle, 2013). First installment in a steampunk YA series featuring Miss Mina Holmes (daughter of Mycroft, consulting detective) and Miss Evaline Stoker (sister of Bram, vampire hunter) in a steam-powered alternate London, the plot of Clockwork turns on an Egyptology club somehow involved in the murder of several society girls in apparent suicide. Delightfully fast-paced fun with a high degree of sexual tension between the two heroines I hopewish — though don't expect — the author will follow through upon.
Holmberg, Charlie. The Paper Magician (47North, 2014). A quiet little magician-in-training story with disquieting undertones, Paper Magician introduces us to a world in which individual magic is channeled through specific substances: paper, metal, glass. We follow the coming-of-age (and romantic) adventures of Ceony Twill and her troubled mentor Emery Thane as they are forced to confront malevolent magicians from Thane's past.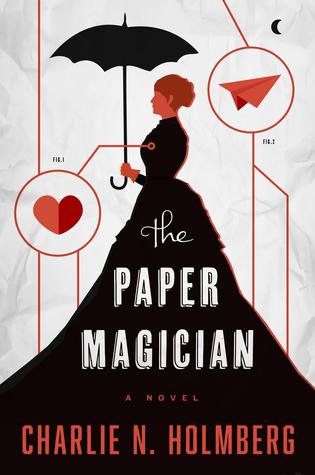 Joyce, Graham. Some Kind of Fairy Tale (Doubleday, 2012). A haunting stolen child narrative set in rural England, Joyce's novel turns on the reappearance of Tara one the doorstep of her childhood home twenty years after she vanished — but no older, and with an outlandish story about a stranger on a horse and a wild, libertine land. While the novel is beautifully and compellingly written, overall I was disappointed in the way Some Kind of Fairy Tale turned on Tara's manic pixie dream girl status: She becomes the catalyst for change (good or ill) in the lives of half a dozen men, but remains herself a martyred cipher.
Lafferty, Mur. The Shambling Guide to New York City (Orbit, 2013). On our inaugural visit to PapercutsJP — the new neighborhood bookshop — Hanna bought me this lighthearted story about an intrepid travel writer on the rebound who stumbles into an unlikely opportunity: editing travel guides for monsters the coterie. Lafferty has followed her first book up with a sequel set in New Orleans and has hinted at a third set in Boston — sign me up!
Mantchev, Lisa. Ticker (Skyscape, 2014). A young woman with a heart defect saved by a surgeon who implants a clockwork "ticker" in her chest; the surgeon now on trial for murderously unethical practices; an infernal device gone off in the family factory; Penny Farthing's brilliant parents gone missing — the events and players are all connected, but can Penny unravel the intrigue before it's too late? A rare genre novel that isn't blatantly sequel-hunting, Ticker is an excellent one-off from the author of the Theatre Illuminata series.
Reviewing Elsewhere This Spring
Ahmed, Sara. On Being Included: Racism and Diversity in Institutional Life (Duke University Press, 2012). ~ NEA News
Hartman, Andrew. The War for the Soul of America: A History of the Culture Wars (Univ. of Chicago Press, 2015). ~ Library Journal
Yoshino, Kenji. Speak Now: Marriage Equality on Trial (Crown, 2015) ~ Library Journal